My favorite high heels are stiletto heels. I absolutely adore stiletto heels.
They are sexy, sexy, sexyyy!! If I could afford all the stiletto heels on the planet I would be a very happy person.
I think stilettos are THE sexiest shoes ever made.
Ever since I was a kid I used to love to see women wearing high heel stilettos. I always dreamed of growing up and being able to buy stiletto heels.
Stiletto heels go on top of the list of any kind of shoes for me.
They are must haves.
I own many many pairs of stiletto heels and believe me it is not enough. I feel very comfortable in stilettos and feel very good about myself. When I have a pair of stiletto heels on I feel powerful and I feel sexy.
There has not been a single time when I wore a nice pair of 5″ or 12 cm stiletto heels and did not get attention from people. Not a single time! There is something about stiletto heels that screams "feminine" to me.
Did you know that stiletto heels were invented in Italy? And it wasn't until the 1950s that they became popular.
The reason why I wanted to talk about stiletto heels now is that they are very much in style.
If you notice, you will see tons of stiletto heels in different shapes and colors currently in shoe stores . It is so refreshing to see stilettos being back in style after their sad disappearance in the 1990s.
Women not only wear stiletto heels with evening gowns, they also wear them with jeans, pants, shorts, skirts, and capri pants. It is in fashion now and most women do indeed buy them. Yeah!!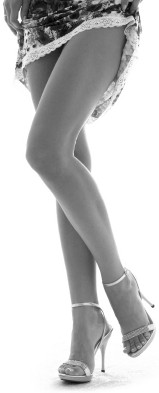 By wearing stiletto heels one makes a statement.
Your presence becomes known to the people around you almost instantly.
To wear stiletto heels one needs very strong ankles and calves.
Since stiletto heels have no cushioning under the ball of the foot, the effort and stress is mostly on the ankles and calves.
Another crucial point for stiletto heel wearers is finding out if your feet have high, low, or no arch. This is crucial because if your feet are flat or have low arch, then the shape of your foot will not mold enough to the sole of the shoe.
I have seen this often, even in catalogue and magazine pictures where the foot is completely off the sole of the shoe.
My feet have a very high arch so when I wear a pair of stiletto heels, especially a 5 inch heel, you can see that my foot sits right on the sole of the shoe and my foot becomes one with the shoe.
Why am I mentioning this ? Because it is important to know the shape of your feet.
This will determine what kind of shoe is right for you to prevent any injuries and problems in the future.
For example, my feet have very high arch and therefore I am more comfortable with higher heels than lower ones or flat shoes.
If I wear flat shoes for more than 20 minutes, I will get the worst pain in my legs, especially in my ankles and back.
So I have learned my lesson and I do not wear flat shoes, no matter what.
I do not even own one pair of flat shoes.
You might ask then how do I workout at the gym? Well, I even found a solution for that.
As a runner, I went to a specialty running shoe store and they had professionals who measured and examined my feet before suggesting the right shoe for me, and ever since then, I wear the same brand name and style which is especially for high arch feet.