Welcome High Heel Fans !
Hello and welcome to the Stileto.com blog, the very first blog dedicated entirely to high heels and the women who wear them.
We created this as a forum to allow people who love heels and the women who wear them to express themselves freely and completely.
Here, high heeled women are called "skywalkers". We've coined the term.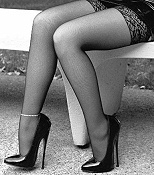 Seems appropriate as they wear "skyscraper" heels. They deserve this title because their feet barely touch the ground when they walk in heels,  elegantly gliding about as if on a cushion of air.
We believe it appropriate because women who wear heels truly do perform a feat of acrobatics every time they take a step. It is meant to look elegant, but it is hard work to make it look easy.
I believe they are not celebrated enough for their skill and elegance, and this is why I decided to dedicate this place to them.
My name is Adam. I am the editor.
As a man, I enjoy seeing a woman wear heels. The higher the better in fact.
I know heels have their critics. But this place was made to celebrate them, those who wear them and their fans.
Heels accentuate the arch of a woman's feet, making her look more elegant, like a ballet dancer. They extend her legs, making her look leggier and taller. They arch her back, making her look more shapely and posed.
They elongate her thighs, making her look thinner and fitter.
When it's a high heel sandal, her toes are spread nicely for all who appreciate them to see.
If you like your woman strong, the right high heel shoe can make her look dominant.
If you like your woman gentle, the right high heel shoe can make her look delicate.
To put it in one sentence, heels generally make a woman look more feminine, closer to the ideal of femininity. And not just physically, as described above, but also psychologically.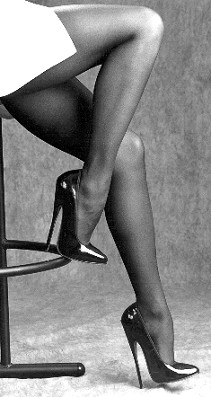 Here are some reasons why:
First, heels truly are a symbol of femininity. The right to wear heels is almost exclusively a woman's right. Women can wear pretty much all shoes men wear, but only women can wear heels. Often in movies, when they want to show a woman is there, you will see the camera panning along the floor and a heel laying there. The message is clear.
Second, there is no doubt pain is involved in wearing heels.
All credit to the women who make this sacrifice every day, they deserve notice here.
But the idea that they are willing to go to such extent to look good, in and out of itself, is a sexy idea.
Third, there is a certain level of skill involved in walking in heels. The higher, the harder. And a woman that has mastered the very high heel, demonstrates her agility, strength, balance, and determination with every step.
With this blog, we will hear directly from the women who have mastered this art and live with heels daily. They will share with us how they feel and what they think about wearing heels.
I hope you come with us on this journey.
Enjoy !
– Adam, Editor in Chief
erotik shop
erotik shop
erotik shop
erotik shop
erotik shop
erotik shop
erotik shop